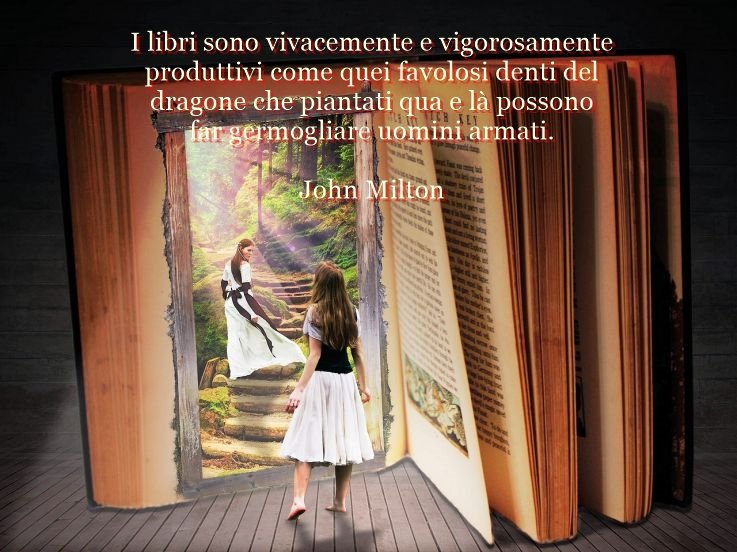 Quanto a me, povero diavolo, la mia biblioteca era un ducato anche troppo vasto!… Così, per sua gentilezza, sapendo che amavo i miei libri, non mi separò dalla biblioteca i cui volumi hanno per me un valore maggiore del mio regno!
Prospero nella Tempesta di William Shakespeare. 
I libri sono vivacemente e vigorosamente produttivi come quei favolosi denti del dragone che piantati qua e là possono far germogliare uomini armati.
John Milton
I libri ci danno un diletto che va in profondità, discorrono con noi, ci consigliano e si legano a noi con una sorta di familiarità attiva e penetrante.
Francesco Petrarca
Ogni lettore, quando legge, legge sé stesso. L'opera dello scrittore è soltanto una specie di strumento ottico che è offerto al lettore per permettergli di discernere quello che, senza libro, non avrebbe forse visto in sé stesso.
Marcel Proust
Aforista: scrittore che con una manciata di parole vuole far concorrenza a un libro intero, e con un piccolo libro a una biblioteca.
Julien De Valckenaere
E' mia ambizione dire in dieci frasi quello che altri dicono in interi volumi.
Friedrich Nietzsche
Ogni medico dovrebbe essere ricco di conoscenze, e non soltanto di quelle che sono contenute nei libri; i suoi pazienti dovrebbero essere i suoi libri.
Paracelso
I libri hanno gli stessi nemici dell'uomo: il fuoco, l'umidità, il tempo e il proprio contenuto.
Paul Valéry
Daimon E-Books Directory  is a free web resource which contains links to free downloadable e-books, publishers, authors, technical papers, documents, as well as user contributed content, articles, reviews and comments. Daimon E-Books Directory is a service to students, researchers and e-book lovers. In Internet there are millions of books, also a lot of free ones. So, if you want to promote yourself and build up your books and art popularity, join us, it's free!
Carl William Brown
Scarica gratis degli e-books interessanti.