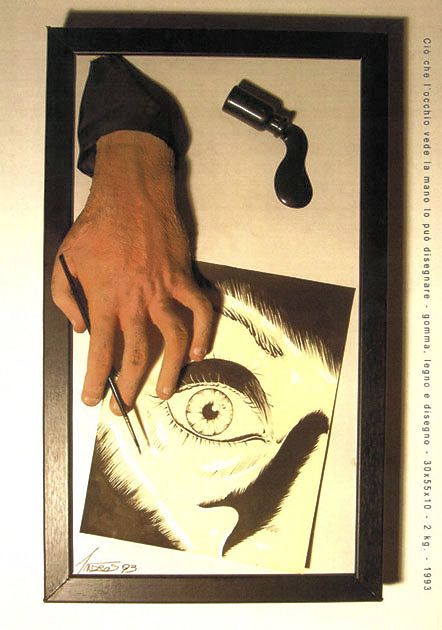 La missione del Daimon Club e' quella di coinvolgere e coltivare il genio, in qualunque spazio o tempo esso si trovi ad agire, in modo tale da favorirne la diffusione, la comprensione, l'apprezzamento e la condivisione.
Carl William Brown
L'arte è come la fede, esiste per chi ci crede.
Andros
Alla fine il più intelligente cede, e così è stato anche per il nostro caro Andros, che nel 2019 ci ha purtroppo, volontariamente abbandonato.
Carl William Brown
Questo è un invito a sottoscrivere la petizione e a sostenere la causa per l'esposizione in bella vista in alcune delle sale principali dei musei vaticani di alcune straordinarie opere del geniale scultore nonché artista eclettico, Andros, elencate di seguito:
Dio ti benedica. (God bless you)
Poliuretano e Vestiti – 110x170x40 – 5 Kg. – 2002
Polyurethane and Clothes – 44x68x16″ – 11 Lb. – 2002
L'Acquasantiera di Freud. (Freud's Stoup.)
Colori a olio su Polyandros, poliuretano e acqua santa – 50x90x20 cm. – 6 chili – 2008
Polyandros, polyurethane and holy water – 20x36x8? – 13,2 lb. – 2008
Il Padre, il Figlio e lo Spirito Santo. (The Father, the Son and the Holy Spirit.)
Poliuretano, resina epossidica e polyandros – 120x85x45 – 2014
Polyurethane, epoxy resin and polyandros – 48x34x18? – 2014
N.B. Per prendere visione delle opere in questione tutti sono surrealisticamente pregati di visitare il sito ufficiale di Andros al seguente indirizzo: http://www.androsophy.net
Humans must always try to communicate something, even when it's uncomfortable, painful, uneasy and our audience can only understand shit; because all art is political, my dear friends!
Carl William Brown
https://www.causes.com/campaigns/80886-expose-some-andros-works-at-the-vatican-museums
La fanstasmagorica trilogia dello sputtanamento dovrebbe appunto essere esposta in bella mostra permanente in una delle sale principali dei musei vaticani, perché costituisce un insieme di monumenti ideali dedicati all'arte stessa, che di fatto si compone di un insieme di puttanate più o meno mostruose ispirate dalla vita e dalla religione, le somme divinità della stupidità universale, e ai suoi critici che in fondo non sono altro che puttanieri di lungo corso. Il supporto che chiediamo al gentile pubblico per cercare di realizzare codesta missione spirituale ci sarà anche di grande aiuto per capire in effetti come il genio aritistico possa venire accolto non solo dai grandi esperti e cultori della materia, ma anche dai comuni cittadini costretti a lottare tutti i giorni per guadagnarsi non un posto in paradiso, ma più semplicemente un minimo di dignità e di sostentamento materiale ed intellettuale. Concludo questa mia perorazione sottolineando che solo seguendo le strade maestre della creazione libera e concettualmente significativa l'Italia potrà finalmente rialzarsi e imporsi nuovamente al mondo come guida e faro dell'umano peregrinare.
Sono altresì convinto che questa iniziativa sarà attentamente valutata e spero favorevolmente accolta dai vari pensatori indipendenti, dai numerosi artisti e critici d'arte, dal direttore dei Musei Vaticani, dalle varie realtà ecclesiastiche ed episcopali e principalmente dal nostro amato Papa Francesco.
In fede
Carl William Brown and the Daimon Club Organization
P.S. Questo articoletto, così come la petizione, era stato a suo tempo concordato con il caro amico Andros che ne aveva approvato la provocatoria divulgazione.